Dogecoin is a cryptocurrency altcoin that trades under the DOGE ticker symbol against USD and other cryptocurrencies like Bitcoin. It was created in December 2013 as a "joke" and was named after the popular meme based on a Shibu Inu dog "Doge."
Due to the popularity of the meme at the time, the "joke" currency quickly turned into a project with a thriving community and started to see regular use as a transfer of value. Due to its low fees and fast speeds, Dogecoin is often used to move money and capital from one cryptocurrency exchange to another.
Table of contents
Dogecoin Price History: Looking Back At 2018, 2019, 2020 And Beyond
Dogecoin Price Predictions And Expert Forecasts
The Economy Forecast Agency
Dogecoin Technical Analysis
Dogecoin Price Prediction 2021
Years later, Dogecoin is still a popular digital currency altcoin and has even attracted interest from the likes of Elon Musk, who the crypto community has affectionately dubbed the "CEO of Dogecoin." Musk has even talked about Dogecoin publicly on the popular TV show Saturday Night Live, and is now working with Dogecoin developers closely. But all the positivity couldn't stave off a large crash in mid-2021.
Because Dogecoin has been around so long, it has a place in the crypto space for the long haul. However, Dogecoin price predictions are rare and relatively low compared to other crypto assets like Bitcoin, Ethereum, Ripple, Litecoin, and EOS.
This guide will help to answer important questions like "will dogecoin ever be worth anything," "should I buy Dogecoin," and "when will dogecoin reach" any of the realistic Dogecoin price predictions from experts and technical analysis prediction charts.
Dogecoin Price History: Looking Back At 2018, 2019, 2020 And Beyond
Dogecoin price history extends back nearly a decade at this point, making it one of the oldest crypto altcoins out there. However, ever since the peak crypto bubble when the Dogecoin reached its former all-time high of $0.018773  in early 2018, the asset fell into a long term downtrend where the future outlook was extremely bearish.
Things in 2019 appeared to be turning around, and Dogecoin and many other top crypto tokens started to see a resurgence.
In 2020, it was the subject of a TikTok trend where users attempted to pump and dump the price of DOGE Coin. Users incorrectly called it a stock, but nonetheless, it had users asking, "why is Dogecoin going up" instead of "why is Dogecoin dropping and going down" for a change.
Users are regularly encouraged to buy DOGE coin expecting Dogecoin will rise to a projected value of $1 per DOGE token. Dogecoin almost reached it recently, topping out over 75 cents per DOGE. If Dogecoin future price action becomes bullish again, $1 is finally possible.
Dogecoin Price Predictions And Expert Forecasts
Because Dogecoin future distribution is endless, and so is the supply, most Dogecoin price targets are low compared to projections on other cryptocurrency assets like Bitcoin. That's not to say Dogecoin long term price cannot be predicted; it is just that the Dogecoin trend hasn't always been positive, leaving DOGE future adoption up in the air. If that doesn't, no matter what the Dogecoin projected growth is, the project could fail and become a poor investment. With new support from big names, however, it just as easily could grow long term.
Wallet Investor
Wallet Investor is highly bullish on Dogecoin, expecting it to finally reach $1 and then some eventually. In fact, the five-year forecast has DOGE at $1.17 for the long term.
Capital.com
Capital.com's roundup includes a price prediction of $1.43 in 2028 for one of the longest forecasts in the market.
The Economy Forecast Agency
The Economy Forecast Agency predicts downside for Dogecoin after a failure to reach $1. Instead, they expect Dogecoin to only ever reach as high as $0.40 again in the future.
Dogecoin Technical Analysis
Dogecoin's price chart looks insane now with the recent pump driven by Elon Musk, TikTok, and other mainstream investors, making predicting future price action more difficult now. However, here is a more direct Dogecoin coin forecast using technical analysis across the years 2021, 2022, 2023, 2024, and 2025. Predictions beyond that are too difficult to and are just pure speculation.
Dogecoin Price Prediction 2021
Dogecoin could have another leg down to sweep investor sentiment as it did before the final leg up in the last bull run. It could reach targets of nearly $2 at this point.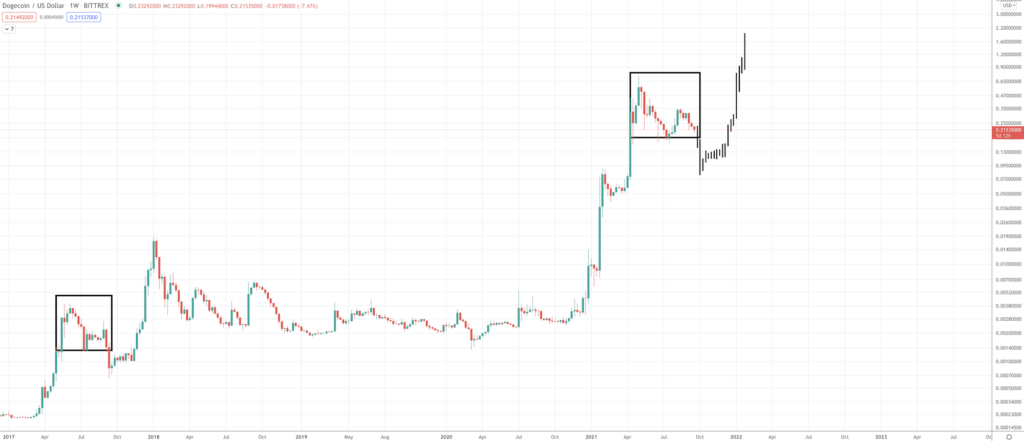 Dogecoin Price Prediction 2022 – 2023
What goes up must come down, and after such a massive rally in Dogecoin, the fall could be dramatic and difficult to deal with. Investors might not be prepared for a bear market already and it could take them by surprise leading to a painful drawdown. Because the rally was so strong, and past bear markets bottomed at former peaks, Dogecoin has a long way down to go.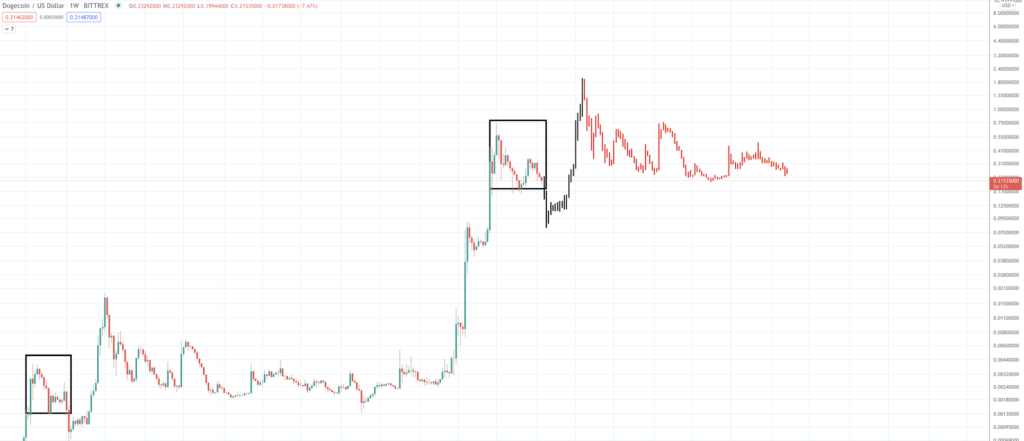 Dogecoin Price Prediction 2024 – 2025
Markets are cyclical, so in time, even Dogecoin will see another bull market breakout, and this could come around late 2024 and into 2025. The bull market would then kick into high gear in the years to follow. That is unless something catastrophic happens and changes the chart technical structure.
What Is Dogecoin? The Crypto Coin Named After The "Doge" Meme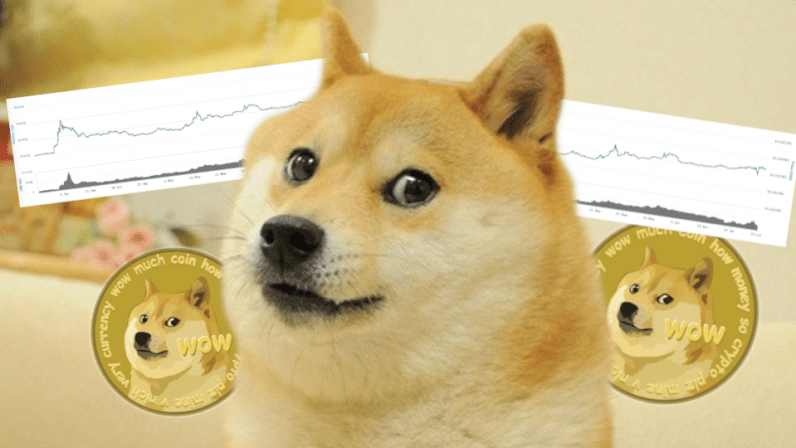 Dogecoin was developed by Bill Markus and industry pioneer Jackson Palmer. Dogecoin's code is based on another cryptocurrency, Luckycoin. However, DOGE coin has been far luckier in its rise to success.
Luckycoin itself is based on Litecoin, which is based in part on Bitcoin's code. Like Litecoin, Dogecoin uses the  scrypt proof-of-work algorithm for consensus of the blockchain protocol.
Unlike Bitcoin and other cryptocurrencies, there isn't a hard-capped finite supply. The Dogecoin supply is unlimited, and currently, around 130 billion DOGE tokens are in circulation. At a current price today of $0.21, the Dogecoin market cap now has a value of $31 billion dollars. At the recent peak, it was worth more than 75 cents and the market cap more than $80 billion. Not bad for a meme or a joke.
The Dogecoin community is extremely active, and in the past, raised over $55,000 at the market price at the time to sponsor a Nascar driver, Josh Wise, to run Dogecoin and Reddit paint on the car during a race. Dogecoin news is more popular than ever before due to the involvement from celebrities such as Snoop Dog and Elon Musk, and much more. It also was a part of the Reddit WallStreetBets and TikTok trend where users pumped the coin on Robinhood. Things started to turn south for Dogecoin shortly after Elon Musk gave it his full support. Prices crashed, and then negativity began to surround the meme culture culminating with a person at the Bitcoin Miami conference being detained for screaming "Dogecoin to the moon."
Conclusion: What is the Future of Dogecoin?
Dogecoin's future is looking strong, as is the rest of the cryptocurrency market. But with even the highest possible prices only reaching under $1, TikTok users and anyone else wondering will Dogecoin hit 1 dollar are likely to be disappointed.
Instead, those looking for better luck on their investments can try PrimeXBT, where users can trade CFDs on traditional assets like oil, gold, silver, and stock indices, alongside crypto assets like Bitcoin, Ethereum, Ripple, EOS, and Litecoin. These five cryptocurrencies top the list of assets by market cap and are far reliable investments with better long term profit potential. These coins could leave Dogecoin in their dust, while the altcoin remains forever considered a "joke" or "meme" coin.
For those more serious about profits should consider PrimeXBT. Registration takes just a minute or less and requires only a minimum deposit of 0.001 BTC to get started. Users can also buy Bitcoin directly from within the account dashboard and begin trading one of over 50+ different trading instruments all under one roof.
FAQ: Frequently Asked Questions
What Is Dogecoin?
Dogecoin is an altcoin cryptocurrency named after the Shibu Inu dog meme, Doge. Dogecoin was created as a joke and named after a meme, but it still has a place in the crypto market even today.
Should I Invest in Dogecoin?
That answer is entirely up to each individual and the information we have provided. This guide provides all the details needed to avoid any pitfalls if you do decide to invest, and what the potential upside or downside may be.
Is Dogecoin A Good Investment?
Dogecoin can be expected to appreciate in value at a reasonable rate, but nowhere to the same prices as Bitcoin, Ethereum, EOS, Litecoin, and Ripple. Because of this, it is difficult to call Dogecoin a good investment when there are so many better choices available.
What Happened To Dogecoin?
Dogecoin's reputation was harmed, and its price potential hurt when TikTok users attempted to pump and dump the cryptocurrency. The earliest investors made money while the rest of the users were dumped on. The selloff hurt the community and caused any interest that Dogecoin had going to fizzle out.
Will Dogecoin Go Up?
Dogecoin is expected to go up according to technical analysis charts and expert price predictions and forecasts. However, nothing is certain in the cryptocurrency space.
How Much Is Dogecoin Worth?
Dogecoin is currently worth under a penny a roughly $0.002 per DOGE token.
How Many Dogecoins Are There?
The current maximum Dogecoin supply consists of 126,480,303,952 DOGE tokes.
Will Dogecoin Increase In Value?
Risk Disclaimer:
Investing in or trading gold or other metals can be risky and lead to a complete loss of capital. This guide should not be considered investment advice, and investing in gold CFDs is done at your own risk.
The information provided does not constitute, in any way, a solicitation or inducement to buy or sell cryptocurrencies, derivatives, foreign exchange products, CFDs, securities, and similar products. Comments and analysis reflect the views of different external and internal analysts at any given time and are subject to change at any time. Moreover, they can not constitute a commitment or guarantee on the part of PrimeXBT. The recipient acknowledges and agrees that by their very nature any investment in a financial instrument is of a random nature and therefore any such investment constitutes a risky investment for which the recipient is solely responsible. It is specified that the past performance of a financial product does not prejudge in any way their future performance. The foreign exchange market and derivatives such as CFDs (Contracts for Difference), Non-Deliverable Bitcoin Settled Products and Short-Term Bitcoin Settled Contracts involve a high degree of risk. They require a good level of financial knowledge and experience. PrimeXBT recommends the consultation of a financial professional who would have a perfect knowledge of the financial an